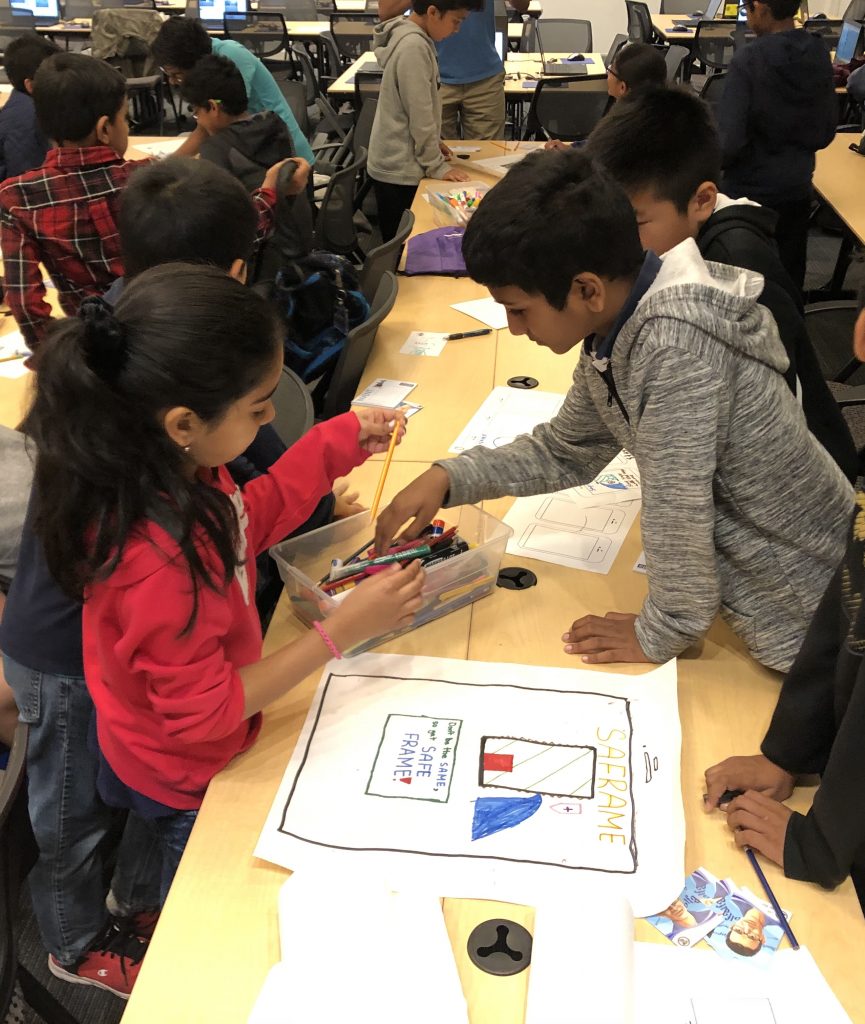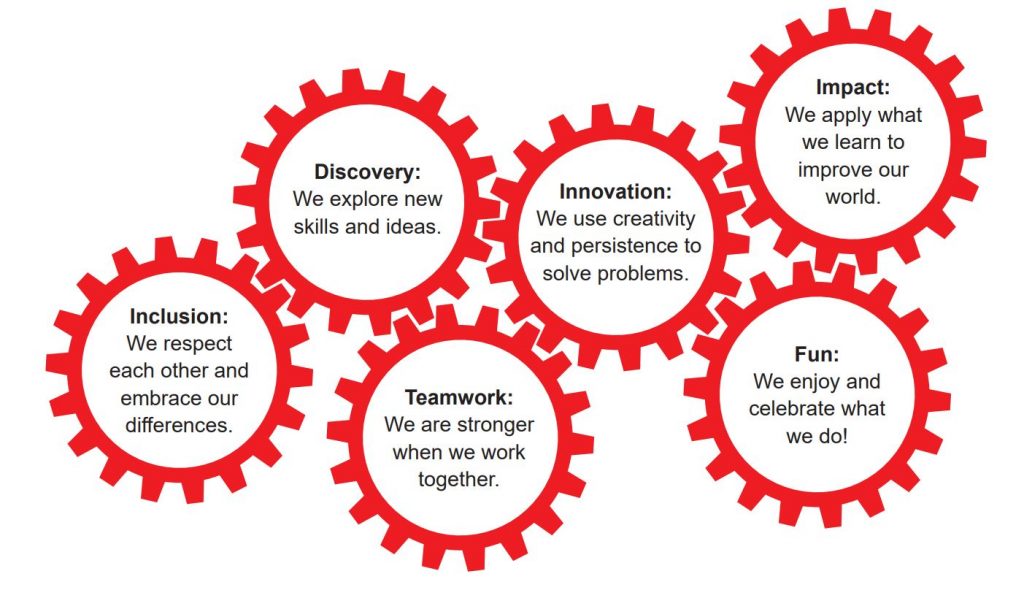 Throughout your season, you'll be guided by the FIRST ® Core Values:
We express the FIRST ® philosophies of Gracious Professionalism® and Coopertition® through our FIRST® Core Values:
Discovery: We explore new skills and ideas.
Innovation: We use creativity and persistence to solve problems.
Impact: We apply what we learn to improve our world.
Inclusion: We respect each other and embrace our differences.
Teamwork: We are stronger when we work together.
Fun: We enjoy and celebrate what we do!
The Robot Game and Innovation Project are what teams do and Core Values is how they get it done!
Core Values FAQs
What does Core Values look like in at an event?
At an event, teams should expect a judging session and at least three robot game matches.

Judging: Judges will be looking for Core Values components throughout the entire judging session (project and robot design). At the end of the robot design portion, there is about 3 minutes set aside for "Core Values Reflection," in which teams can address any other Core Values elements that they want judges to know. You can find the Judging Flow Chart here.

Robot Game: Core Values is also evaluated at the robot game table. Teams are expected to show Gracious Professionalism when interacting with each other, volunteers, and other teams. Every time teams come to the robot game table they will receive either a Developing (2), Accomplished (3), or Exceeds (4) which will be factored into the Core Values judging rubric. If teams do not show for their match, they will score no points. You can read more about this in the Masterpiece Robot Game Rulebook (Pg 6)
Do we need to have a Core Values Poster?
A Core Values poster is not required in Virginia + DC FIRST® LEGO® League regional tournaments, but they can be helpful for teams to reference when talking to the judges about how they incorporated Core Values into their experience.
What is Gracious Professionalism and Cooperititon?
Gracious Professionalism is part of the ethos of FIRST®. It's a way of doing things that encourages high-quality work, emphasizes the value of others, and respects individuals and the community.

With Gracious Professionalism, fierce competition and mutual gain are not separate notions. Gracious professionals learn and compete like crazy, but treat one another with respect and kindness in the process. They avoid treating anyone like losers. No chest thumping tough talk, but no sticky-sweet platitudes either. Knowledge, competition, and empathy are comfortably blended.

Coopertition® produces innovation. At FIRST®, Coopertition is displaying unqualified kindness and respect in the face of fierce competition. Coopertition is founded on the concept and a philosophy that teams can and should help and cooperate with each other even as they compete.

Coopertition involves learning from teammates. It is teaching teammates. It is learning from Mentors. And it is managing and being managed.

Coopertition means competing always, but assisting and enabling others when you can.