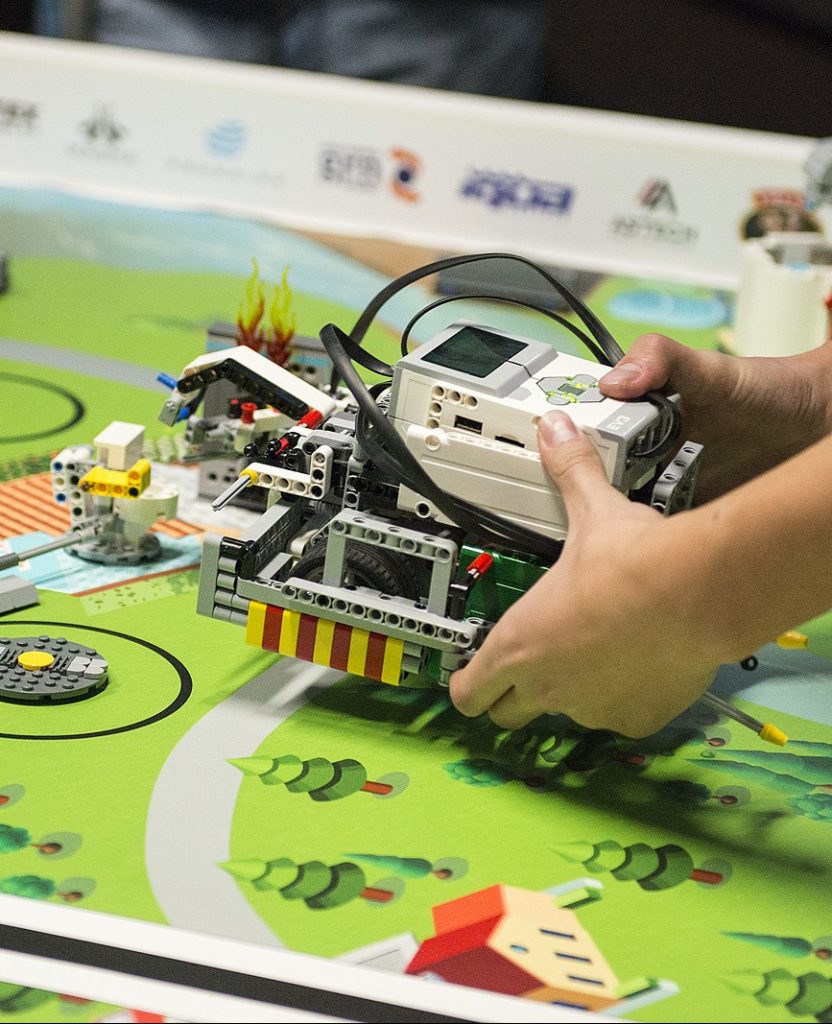 The Robot Game is one part of every season challenge. In the Robot Game, your team will:
Identify Missions to solve.
Design, build and program a LEGO® Robot to complete the Missions.
Test and refine your program and design.
Your Robot will have to navigate, capture, transport,
activate, or deliver objects. You and your Robot will only
have 2½ minutes to complete as many Missions as
possible. So, be creative!
Robot Game Rulebook – This important resource will provide an outline of the challenge, the Missions, the allowable hardware and software requirements, Robot Game rules, and field set up.
Challenge Updates – After your team has taken a deep dive into the Robot Game Guide, you will want to continuously check the challenge updates. This will help clarify aspects of the challenge as teams get into the new season.
Robot Game FAQs
How are teams navigating the Robot Game during COVID-19?
Every team is going to approach the problems presented by COVID-19 differently, because our VA+DC teams are formed in a variety of ways (school, home, community) across a large region! This is a growing list of ways in which teams in our area are handling the robot game. Many of these ideas depend on a team's situation, so the list is made up of suggestions and is not prescriptive. Let us know what you come up with!

If your team can meet in person…
– Practice all guidelines from the CDC and state/ local health agencies (practice social distancing, wear a mask, wash hands and materials often)
– Purchase 1 extra RePLAY Challenge Set or up to 5 game mats (no mission models) through your team's FIRST dashboard to allow for more social distancing or different meeting locations
– Meet in large or outdoor spaces (garages, gyms, etc) to allow for more social distancing
– Work in consistent cohorts to reduce exposure. Groups can meet virtually to catch each other up and plan their next steps.

If your team cannot meet in person…
– Mission Models: Deliver one "set" of numbered bags to each team member. Have a virtual build party. Coach then collects the models. Learn more -pg2
– Mission Strategy: Use the FLL Tutorial Sketch Planner and the (unofficial) Game Scorer to plan the team's mission strategy.
– Robot Design: Have members use Studio 2.0 by BrickLink to create the teams robot in CAD. Designs can be duplicated, which could be helpful with documentation. Find out how to use Studio 2.0
– Pseudocode: Have members work on pseudocode for missions using either the RePLAY wireframe grid or the FLL Tutorial Sketch Planner (w/ measurements!)
– Remotely Programming: Use "Chrome Remote Desktop" or other platform to have members remotely control the computer connected to the robot. Learn more -pg3
– Remote Robot Game Practice: Get tips on how to run a remote robot game practice. Members could email code to whoever has the game table ,then team could work on testing/revising during a virtual meeting. Learn more -pg5
– Multiple robots: With many schools and organizations not meeting in person, there may be unused robots/ kits that can be distributed to team members. There are grant opportunities that could allow teams to purchase extra equipment.
– Multiple game mats: FIRST is allowing teams to purchase 1 additional challenge set ($75) or up to 5 additional mats ($25) per team. Teams can purchase these items through their FIRST dashboard.

What type of robot should our team get?
While the Game Guide states that teams can "use any LEGO-made building parts in their original factory condition," there are still many options. Teams are able to used older kits like the NXT and RCX, but these products have been retired by LEGO, so support is limited.

While the EV3 is being retired by LEGO, it will be used in competitions for years to come. Read more about that retirement process here. In 2019, LEGO introduced the Spike Prime to the world and we have seen many teams use the kit successfully during our last season. It is recommended that teams also use the Spike Prime expansion set for competitions.
Does our team have to use a game table during practice?
Using a regulation game table is not necessary during practice as teams may have storage or space issues, but it is highly recommended that teams do practice with one before attending a regional tournament.

You can find the building instructions here.
What programming language can we use?
Team can use any software that allows the robot to move autonomously (on its own), run only by programs that are loaded onto the controller.

Remote control is not allowed in the competition setting and Bluetooth must be turned off.
What should we do if we have a question about game rules?
It is very important that teams and coaches continue to check out the "Challenge Updates" that are constantly getting refreshed throughout the season.

After consulting the Game Guide and Challenge Updates, many teams consult our ListServ with questions. This platform is also monitored by our regional head referee and "Decider-in-Chief" of all game related questions, Michael Brown.
Mission Model Building Instructions
How do I build the Mission Models?
Sort the LEGO element bags (found in your Challenge Set box) by bag number. They are labeled.
Match the bag numbers with the corresponding bag numbers below.
Open the correct pdf files and have an awesome time assembling the models. We strongly recommend opening one set of bags at a time so elements are not mixed up.
Have fun!
If it is your first time setting up the mission models, watch this helpful video before unboxing the robot game! You can also check out this video to help you set up the robot game table.
Missing LEGO elements?
Visit the missing parts/customer service page of the LEGO website, identify missing element(s), and order.
Or call 1-800-422-5346 or 1-800-835-4386 and a rep should be able to help. Team must mention FIRST LEGO League.